Certified and Accredited by the World's Leading Coach Education Organisations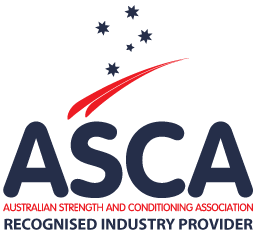 Coaching Explosive Speed Online Course - $AUD242.00
A World Class Educational Environment Created by an Internationally Acclaimed Presenter and Athlete.
Course Summary:
Sport speed expert Ranell Hobson will take you through the knowledge and skills you need to coach linear and multidirectional speed to maximise player performance. You will gain an understanding of the science foundations behind explosive speed and learn how to maximise every players potential while decreasing their risk of injury. This is 8-hour online course includes the coaching of technical and physical competencies and provides you with drills which can be implemented into training and coaching programs immediately.
Course Detail:
The course contains 4 webinar style slide presentations, 13 practical videos and 2 self-directed practical sessions. This course covers everything you need to build explosive speed in your athletes.
Including:
• Coaching skills, being a coach/educator, using the What How Why, and Tell, Show, Do methods of instruction
• How to use your athletes Warm up as an everyday Assessment tool and provide exercises to remedy gaps in movement competencies.
• Improving speed performance, Player efficiency and Reducing injury risk through technical proficiency and movement competency. • Coaching mechanics for both linear speed and change of direction speed
• Physical qualities for speed such as strength, power, mobility, elasticity, postural integrity and dynamic stability which all contribute to the achievement of next level explosiveness.
Expected run-time : 5 hours Theory and MC questions, 3 hours personal practical application.
A World Class Educational Environment Created by an Internationally Acclaimed Presenter and Athlete.
Within this course you receive:
• Course Welcome video file
• Course Manual (Instructions for completion and all theory presentations)
• Coaching Speed Module (recorded webinar, practical video files and 15 Question quiz)
• Linear Speed Module (recorded webinar, practical video files and 15 Question quiz)
• Multi-directional Speed Module (recorded webinar, practical video files and 15 Question quiz)
• Speed Physicality Module (recorded webinar, practical video files and 15 Question quiz)
• Linear Speed Practical session
• Multi-directional Practical Session
• Practical Self-Assessment Performance criteria guide.
Each of the 4 modules is presented visually including real world examples and applications of the source material. You will feel like you are in your own classroom and Ranell is your personal tutor. You can easily rewind important information or replay at your leisure to ensure that your learning environment is at your own pace, in the comfort of your own home. You can also download the videos to your desktop computer for transfer to your tablet or smart phone .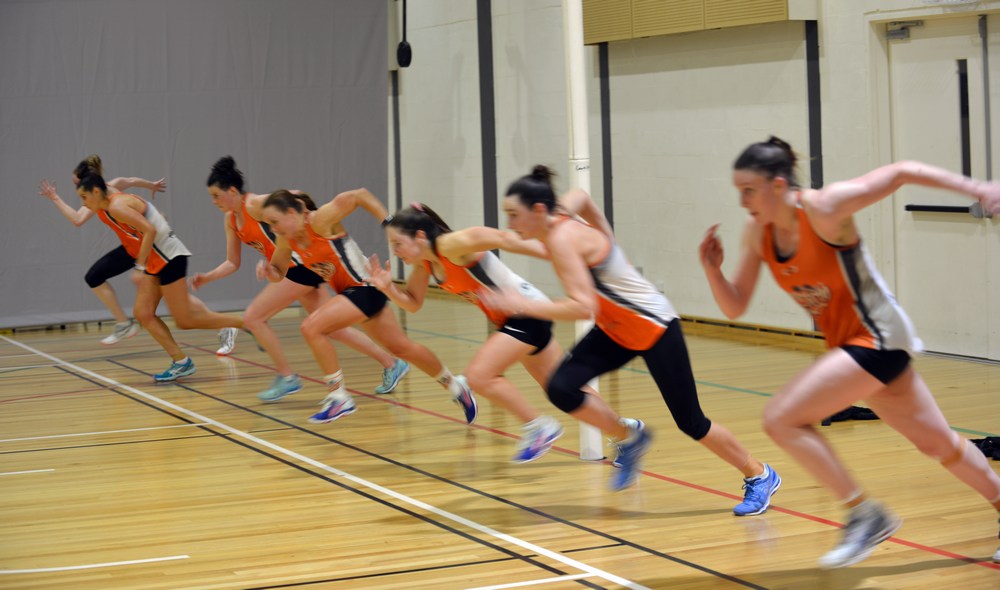 Online Practical Workshop
Ranell has created an incredible Explosive Speed Practical Workshop for you to complete in your own time . This is the perfect complement to the theory module presentations, it includes two x one hour sessions (Linear Speed and Multi-directional Speed) as well as a detailed Performance assessment guide. Upon successful completion you will have the ability to demonstrate and assess athletes technical performance across world leading speed drills.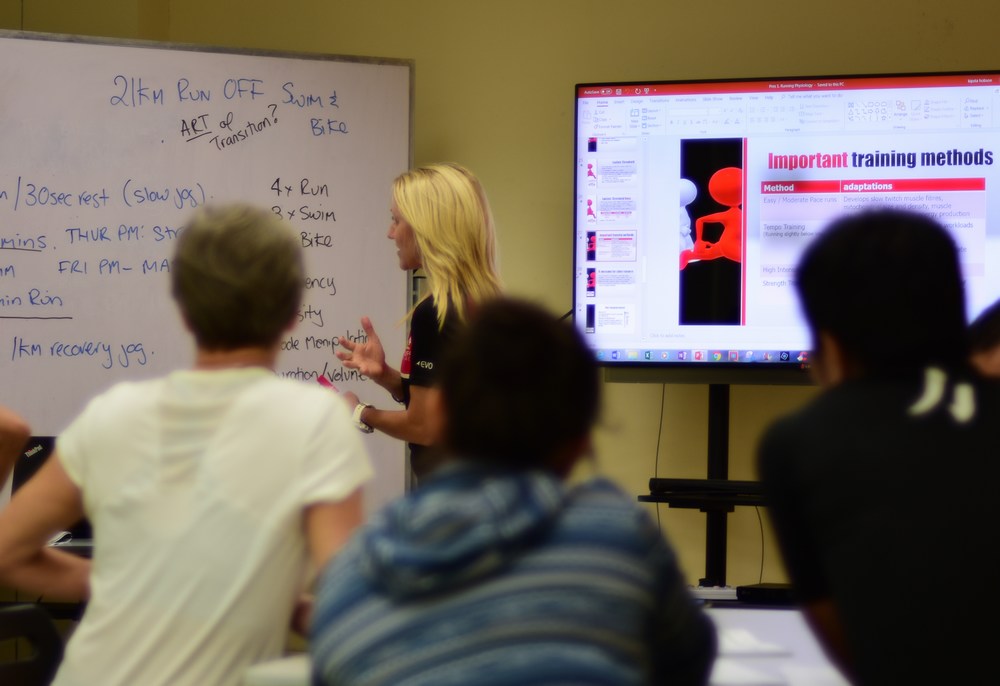 You will be provided (via download) with the Course Manual which includes all slides from the video presentation as well as space for you to write comments and/or take notes next to each image. This manual is yours to keep and will become an incredibly valuable resource that you will enjoy referring to throughout your coaching career.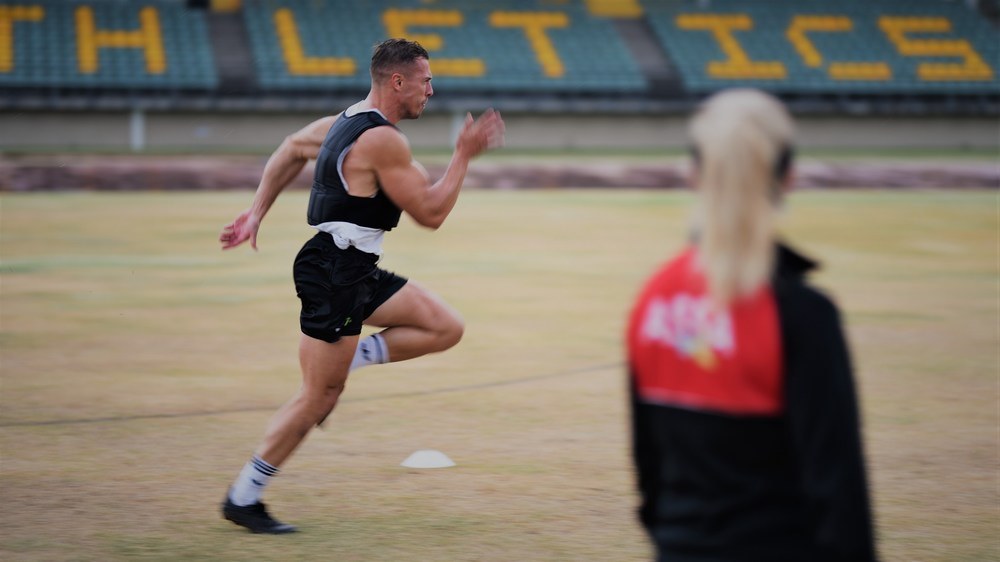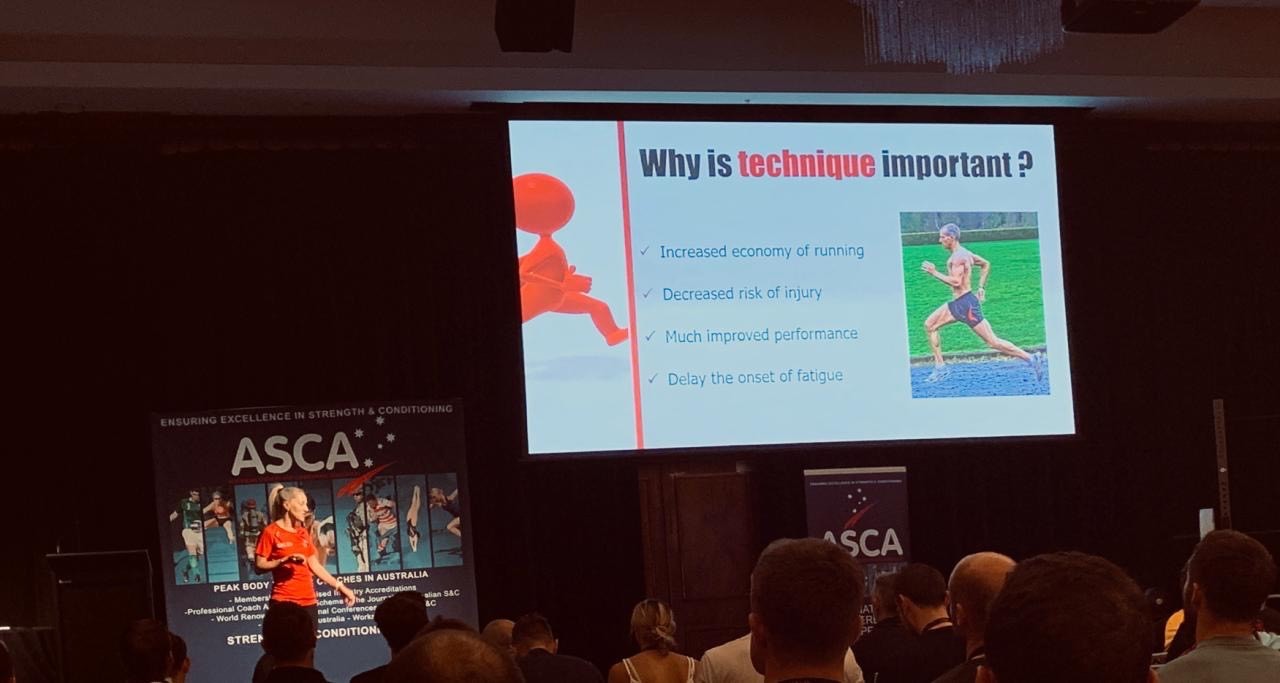 Module 1 : Coaching Sport Speed
• The importance of speed in sport
• That coaches should be focussed on educating athletes
• How to use your athletes Warm up as an everyday Assessment tool
• What exercises to use to remedy gaps in movement competencies
• The importance of speed
• The importance of agility
• Difference between speed and force
• Difference between internal and external cuing
• The importance of technical training in speed
• How to improve the energy efficiency of players
• What sport speed coaching includes
• The pillars of speed (mechanics, body composition and physicality)
• Specific Linear Speed Terminology
• The pillars of Linear speed
• The importance of Posture
• Difference between Acceleration and Top Speed
• What to look for and How to Coach Acceleration mechanics
• What to look for when coaching linear speed mechanics
• How to coach Foot strike for maximum force delivery
• How to coach Foot recovery for maintenance of front side mechanics
• How to coach the complete Stride Cycle for efficiency and maximum horizontal propulsion
• How to coach max velocity sprinting
• What to look for in the Arm action of athletes
• When and how to use technical drills
• The importance of training top speed in sport field athletes
• The benefits of training top speed in sport field athletes
Module 3 : Multi-Directional Speed
• Multidirectional Speed Terminology
• Pillars of Multidirectional speed
• Difference between COD, Agility & Manoeuvrability
• Coaching COD, Agility & Manoeuvrability
• What contributes to perfect mechanics for COD performance
• Tests for COD, Agility and Manoeuvrability
• Best coaching practice for transition to game
• Example session and drills
Module 4 : Building Physical Qualities for Speed
• Physical Qualities required for explosive speed
• Qualities of Mobility (Joint ROM, Motor Control, Muscle extensibility)
• Anterior pelvic tilt and dysfunction
• Restrictions in joint function and risks to athlete
• How to maximise stretch reflex and elastic qualities
• Benefits of Plyometric training
• Plyometric training progressions
• Need for eccentric strength
• Strength training for speed foundations
• How to develop the athletic Core
• Core Training – Adaptation focus
• Importance of body composition in speed performance
Ranell is a world-wide respected strength and conditioning coach with an expertise in Sprinting. She is a conference presenter, world record holding masters sprinter, and speed mechanics and fitness coach for international level players of running sports (football, soccer, baseball, netball, tennis, rugby….)
She has been called "An expert in Speed" by European sporting technical coaches.
She is also the author of various courses and workshop that have been accredited by world-wide organisations – ASCA, NSCA, ESSA, ACE, NASM and FirstForSportUK such as :
-Maximising Running Performance
-Everything You Need to Build Explosive Speed
-Strength Training for Seniors
-Speed Mechanics to Maximise Athletic Performance
-The ASSA Accredited Running Coach Certification Course
Is she respected by her clients and peers ?
"Ranell is truly the best of the best! She can practice what she preaches and makes the gruelling training sessions fly by with her positive and upbeat attitude." Lottie Richardson, NSW Premier League Netball
"Ranell provides the highest quality training and recovery techniques you could ever ask for! With every single session having an amazing, positive and supportive feel! I highly recommend" – Mallorie Jansen, NSW Premier League Netball
"I have no hesitation using Ranell for any athlete that I work with as I know they will get faster because of her programs" – Dr Craig Duncan International High Performance Coach – Socceroos Asian Cup Winners 2015, Iran Asian Cup 2019 Semi-Finals, NSW State of Origin Rugby League Winners 2015.
"Fantastic program which I highly recommend to all coaches who are serious about developing sub junior, junior and youth players in sport".Tim Dakis - Head Foundation Coach – FFA/FFV SAP Nunawading City Football Club, Technical Coaching Director Australian Schools of Football.
"Can't credit Ranell enough for the player development she has provided our programs across Netball from High Performance level right through to our district talent development. Well worth every minute" – Heather Smith, High Performance Manager GWS Fury Netball, BCNA, WSAS Netball.
 "…Ranell is an absolute genius" – Jason Pospishil, High Performance Manager, Australian Baseball.
"Sound principles and great application in team sports!" - Lachlan Wilmot, Former Head Strength & Conditioning Coach GWS Giants AFL, Head of Athletic Development Parramatta Eels NRL, now Athletes Authority
"Fantastic coaching, great passion, brilliant knowledge… one of the World's best Speed and Movement Coaches" Phil Greenwood Strength and Conditioning Manager, Blackpool FC UK
"Ranell is at the forefront of youth sports development in Australia" - Gary Raffety Head Physiologist, Australian Youth Football Institute
"Ranell's knowledge & application is phenomenal"  James Baker, Aspire Academy Qatar, Child-to-Champion UK conference convenor.
"Ranell is an expert in Speed"  Des Ryan, Arsenal FC Academy Head of Sports Science.
Does She Have Qualifications ?
Ranell has a Masters degree in Sport Coaching with a GPA of 6.5 (High Distinction) along with a Bachelors double degree (Sports Science and Sports Coaching).
She also is an Australian Track and Field Level 3 Coach (Sprints, Hurdles, Relays) and Australian Strength and Conditioning Association Level 2 Professional Coach along with a myriad of other accreditations.
She has also been accredited with the NSCA (CSCS) since 2007.
What about Industry recognition ?
In 2019 she was awarded the ASCA Performance Development Coach of the Year at their annual International Conference where she presented for the second year in succession.
She has also been awarded a Quality Teacher Award by the Australian College of Educators which is reserved for the top 40 teachers within the entire education system (Tertiary, Secondary, Primary).
She has presented at the ASCA International Strength and Conditioning Conference 2 years in succession.
She also presented at the Asian Fitness Conference in Bangkok in 2019 (and 2020) and the Singapore Expro Convention and will be featuring at the Nike Super-Showcase in Shanghai in 2020.
She will also be presenting at the first ever 2020 Child to Champion conference in Sydney, as it is usually run in the USA and Europe.
She has run coaching workshops at the youth footballing academies of Arsenal. Southampton. Brighton, Crystal Palace and Leicester.
She has presented workshops and consulted to Australian sports clubs at the highest level – AFL, NRL, Super 15 and A League franchises.
She is recognised as one of the leading figures in Speed in Australia.
Ranells Latest Blogs / Articles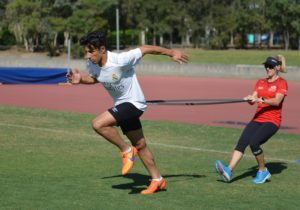 By Ranell Hobson CSCS Sprinting skills of soccer players is becoming of vital importance as the game and the players are becoming faster (Haugen et al, 2014; Wallace & Norton, 2014) and the amount of sprinting required within a game is ever increasing (Andrzejewski, et al. 2013; Di Salvo et al, 2010). Straight line acceleration…
Read More