At the Academy of Sport Speed and Agility we focus on perfecting the explosive acceleration that gets you to the ball first, or allows you to hit the line at your maximum speed possible.
Our specialised training programs and excellent team of coaches will get you running faster, for longer, through perfect speed and efficient movement mechanics.
These specific programs are best for 1 on 1 solo sessions ($99) or in groups up to 5 attendees ($33).
Regardless of the sport, the ability to rapidly and efficiently accelerate, decelerate, change direction and move a body segment or the entire body rapidly is a nearly universal and essential element of success
1 on 1 or Family up to 3 members
1 on 2
$99 price applies if only 1 attendee.
1 on 3
The price is capped at $49 per attendee unless it becomes a solo 1 on 1 session in which case the $99 price applies.
1 on 4
Price varies according to actual session attendees as per ASSA policy shown here.
1 on 5
Price varies according to actual session attendees as per ASSA policy shown here.
ASSA doesn't organise small group training based upon individual's requests due to the ranges of sports and ages that are our athletes and the differences and difficulties that this entails, plus the disadvantage it brings to specific speed and movement development coaching. We want you to improve and are not here to waste anyone's time and especially money.
As such if you are looking at our small groups coaching as an option to be part of our training program at an excellent price-point then we would expect you to organise the group and then contact us. In this way the quality of the training is magnified due to the the same sport and age of the members involved.
It is also vitally important to be aware of the pricing policy for group training as follows :
1 on 2 : Priced at $66 each. If only 1 athlete attends then this is priced as a solo session at $99.
1 on 3 : Priced at $49 each. If only 2 athletes attend then this remains at $49. If only 1 attends then this becomes a solo session and priced at $99.
1 on 4 : Priced at $38 each. If only 3 attend then this is priced as a 1 on 3 session at $49 and then the above 1 on 3 policy takes over.
1 on 5 : Priced at $33 each. If only 4 attend then this is priced as a 1 on 4 session at $38 and then the above 1 on 4 policy takes over.
It would be advantageous if the group organiser was pre-aware of any sessions moving towards low numbers and then contacted their ASSA coach to discuss the validity of the session proceeding for that week. We only require a 24hr cancellation notice period to avoid any charges unless unexpected circumstances are involved of course..
Pricing for the small groups is reflected upon this and we always try and avoid invoice shock. If you have any questions or wish to discuss this further please contact the office directly - 02 8310 9946.
Training Director Ranell Hobson has written 6 - 8 - 10 and 12 week pre season speed and movement training programs that are ready right now to be implemented at your club by a fully qualified ASSA coach.
These programs are progressive in nature and will create a level of athleticism within your players that will greatly increase their on-field / on-court performances.
As Ranell says - we will build for you players that will be physically able to do everything that you want them to do on game-day - in accordance with your tactical and technical requirements.
Call the office today to discuss further.
ASSA Coach
Minimum 2 hours on-site. (2 teams).
Ranell Team Coaching
May require travelling costs if applicable.
Associated Administration by Ranell
Specific athlete/club program writing or additonal duties not covered by face-to-face sessions.
Ranell at Melbourne City FC Australia, September 2018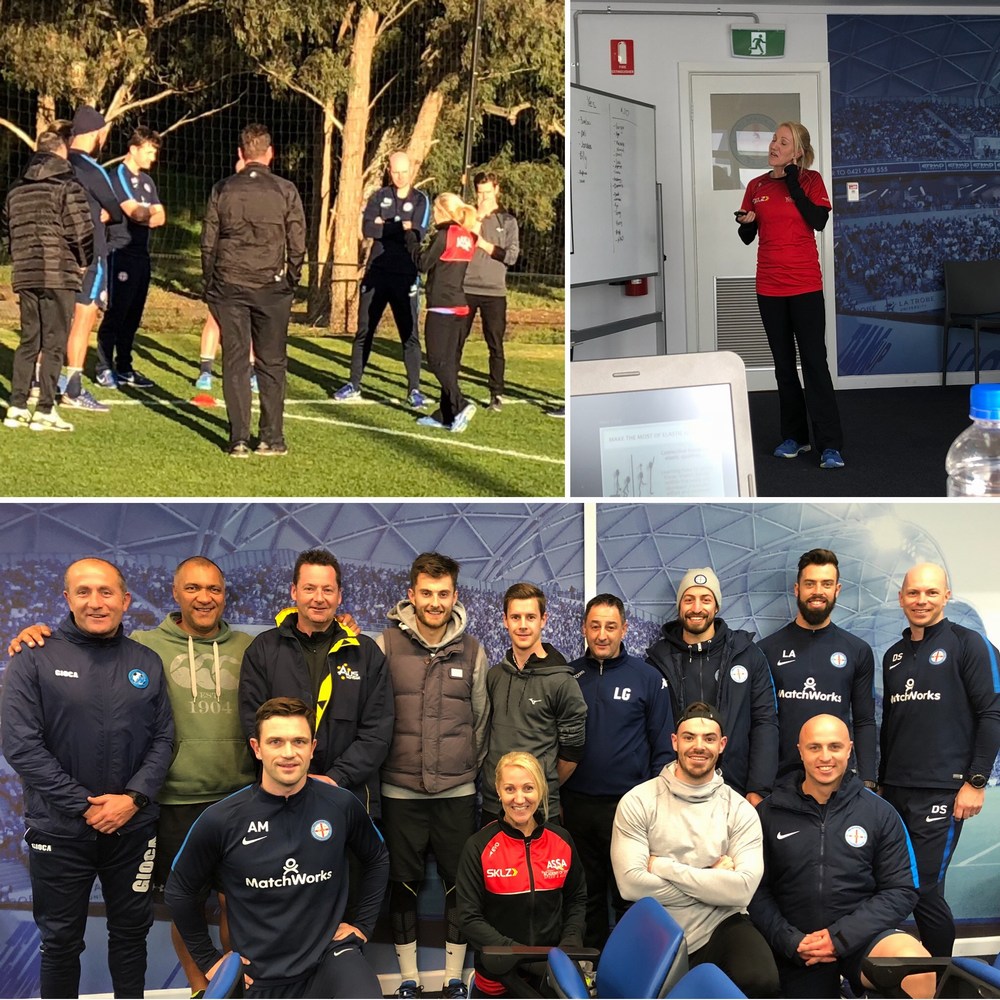 ASSA's special 8 week intense and condensed Speed and Agility program.
Remarkable changes in just a few months.
Transform your game in the off-season and be a whole new athlete next time you play.
****** Online version now available to purchase. Including 2 warmups, 2 core and stretching components and 8 weeks of superb training plus over 1.8GBs of videos all for just $AUD54.95! Click below to be taken to the page…
When a player needs to put on speed quickly for an upcoming tournament or trial, we run them through an intense, condensed ASSA Speed Program.
This is Ranell's specially written program for all athletes and sports players aged 13+ – designed to teach you the skills of how to run properly plus the technical skills required for explosive on field speed and change of direction as quickly as possible.
Acceleration, linear speed, change of direction, braking and landing are all covered in this spectacular program.
Workshop - "Speed Mechanics to Maximise Player Performance" - 90 minutes theory and 90 minutes practical application. Excellent workshop for time-poor coaches and organisations.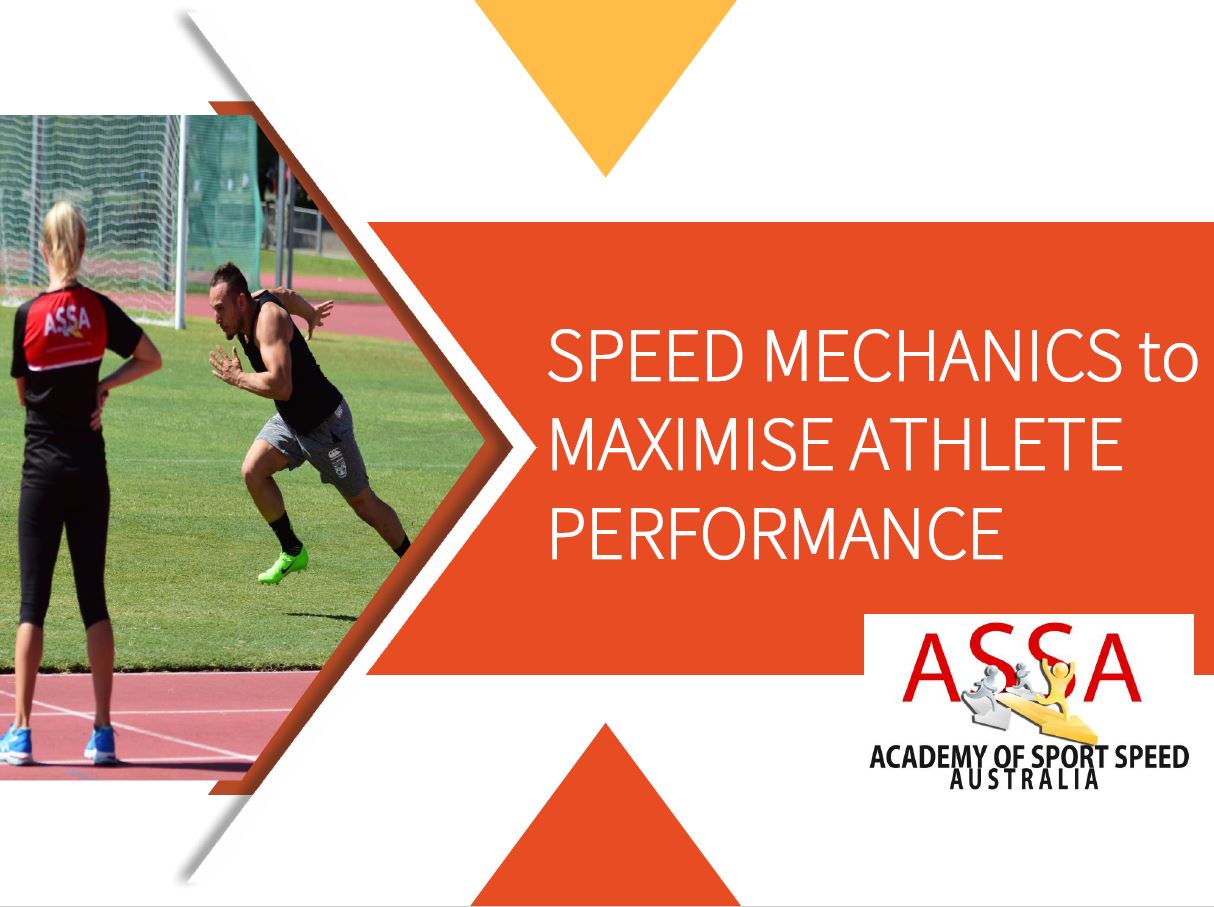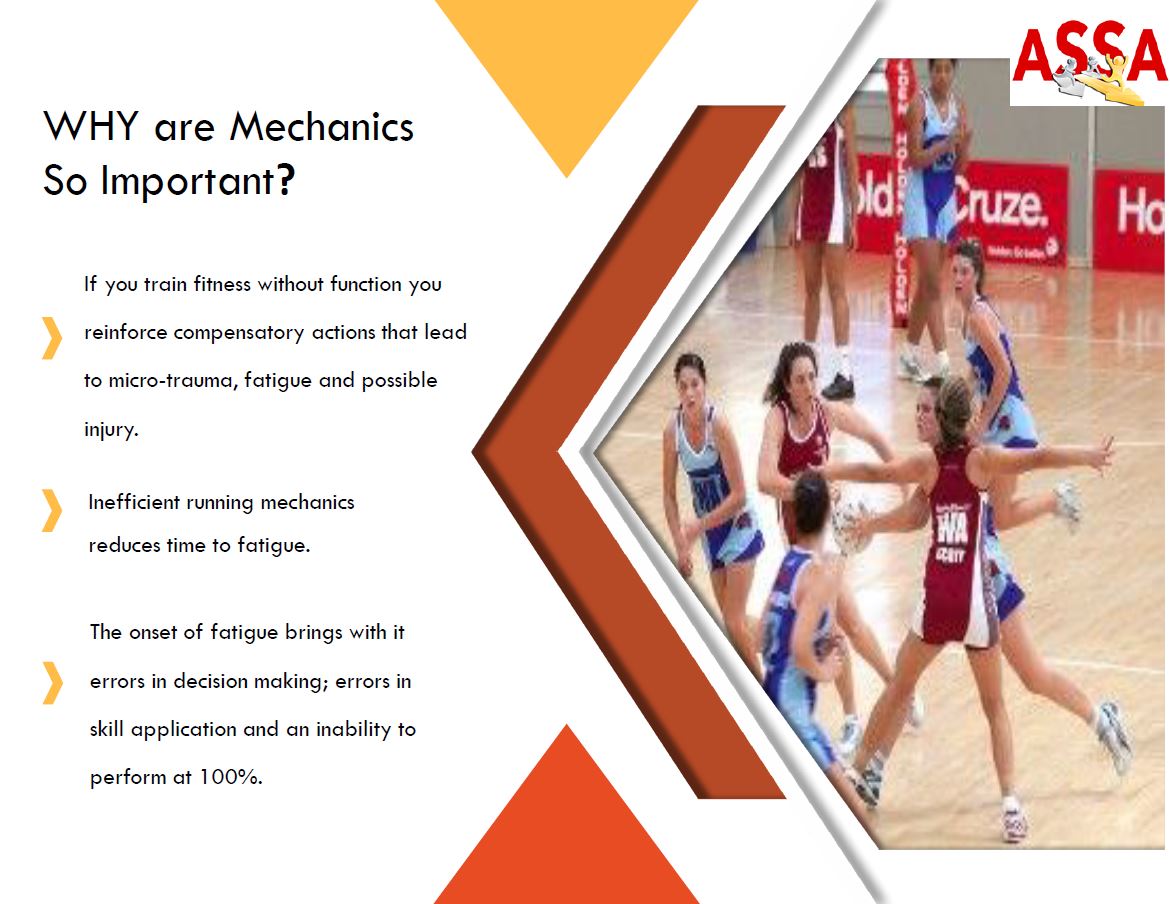 Ranell Hobson has presented Speed and Mobility Mechanics coaching workshops to some of the biggest Youth Academies on the planet with outstanding success and is now home in Australia for a short time.
She is an award winning presenter, teacher, educator and coach, as well as a world record holding track sprinter. She has a passion for long term youth development and achievement of their maximum athletic potential.
As one coach has commented – "If you have the chance to attend one of Ranell's speed coaching workshops – DO NOT MISS IT !".
Ranell has presented to Presidents of sporting associations, Physios and Coaches of European Football Clubs, National coaches of sporting teams, past and present players from the highest level of their specific sports, and parents looking for an edge for their athletes whether elite or otherwise.
We hope to see you at one of these presentations and guarantee that you will be impressed with take-home skills and drills that will help you train your athletes to a higher level of sports performance.
"I recommend this workshop to any coach"
Dr Craig Duncan, ESSA Sports Scientist of the Year 2015; FFA and Australian Socceroos High Performance Coach Asian Cup 2015

"A great workshop"
Des Ryan, Head of Sports Science, Arsenal FC Youth Academy

"Ranell is at the forefront of youth sports development in Australia"
Gary Raffety, Head Physiologist, Australian Youth Football Institute

"If you ever have the opportunity to attend one of Ranell's speed workshops do not miss it" Jack Pullin, Manchester City FC Academy

"Fantastic workshop, great passion, brilliant knowledge"
Phil Greenwood, Head of Sport Science, Tranmere Rovers FC

"Fantastic presentation thank you; Best presenter I have had at these courses; Awesome energy; Sensational – well presented; Would love to do other courses by Ranell." Various attendees at recent Athlete Recovery course.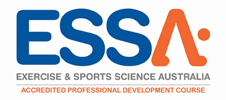 The Ultimate 1 Day Guide to Understanding and Implementing a safe and structured Speed Coaching Program in Australia
ASSA – Ranell Hobson's Everything You Need to Build Explosive Speed Course – Excellence in Creating Exceptional Learning Environments.
ASSA is now presenting our international Everything You Need to Build Explosive Speed Course in Australia. Cost is $385 (incl GST). For details please contact kip@academyofsportspeed.com
We can also hold this course at your club or organisation in a closed setting for your coaches and members. Contact Kip directly at kip@academyofsportspeed.com to discuss.
Sport Speed presenter Ranell Hobson will take you through leading technical drills to maximise performance in straight line & multidirectional speed. These drills & combinations can be applied to any field or court based sport to unlock the true athletic potential of your players. You will also gain an understanding of the science foundations behind explosive speed; how to maximise every players potential & keep them injury free.
You will also learn how to identify & correct inefficient speed & movement mechanics in your players that will reduce their risk of injury & increase their on-field efficiency.
Course modules include:
Speed Coaching
Linear Speed
COD and Agility
Building Physical Qualities
There are also 2 practical sessions (with emphasis on Dynamic Warmup techniques) comprising:
Linear Speed
Multidirectional Speed
This is a full day course that will provide you with skills and drills that you can implement into your current training and coaching programs immediately.
"I attended Ranell's Speed Coaching course one Saturday. The very next Tuesday at training I saw a 16 year old player running and noticed his strange gait and strapped knee. Upon speaking to the parent I was told that he had suffered from knee pain for the past 18 months and they had strapped it before every training session and game since then. Thanks to skills learnt on the course I was able to identify that the issue was in the boy's hips and not his knee. The very next day his parents got his hips checked and they were found to be restricted but easily fixed. That weekend he played without strapping and without pain for the very first time in a long time. Had I not been able to identify the correct cause of the boy's running issues and offer useful advice, he wouldn't have been able to play.
I can't recommend this course highly enough to any coaches of youth sport. If you only take away 5% of the knowledge from the day to apply to your team, then you will consider it a day very well spent indeed."
Darren Graham
Director and Coaching Education Manager BDSFA
Director and U16's Asst Coach Blacktown Spartans Football Club
"Just wanted to say thanks for the great course on the weekend. I certainly learned a lot and it was a great mix of practical and theory. I have attended uni (sport and exercise degree) and other coaching courses and workshops and I have to say that was one of the best I've been to. You guys are obviously very passionate about and knowledgeable in the areas of physical preparation and LTAD of youth athletes. It was great to meet you both."
Mitchell Cain
Head of Strength and Conditioning
Parramatta Rugby
"Up like a salmon!
Today I was on the ASSA – Academy of Sport Speed and Agility speed and agility course for coaches and athletes at Platt Lane facility, and it was amazing!
A great insight into the mechanics of improving sprinting speed and sharpness of agility, alongside explosive power techniques. Learnt so much in a single day!
This can be applied to a variety of sports, so if you think you need help gaining that extra couple of yards, or improving top speed, then contact me!
Thanks to the guys from ASSA! Great day, great course! I highly recommend this course to anyone that is involved with sports coaching or the fitness industry. If you ever see a course pop up in the UK, get booked on!"
Jack Pullin,
Ex Manchester City Academy Coach
Why Video Assessments Work
Video the athlete according to the ASSA assessment video guidelines and Ranell will fully assess their current mechanics, identify any weaknesses or inefficiencies and provide valuable insight into correcting the technique.
Specific stretching programs will also be provided if deemed necessary.
This is an excellent way for an athlete to have a world-class speed and movement mechanics coach look at how they are running and provide expert feedback and real solutions for $AUD198.
Perfect for national and international sports players to be assessed by ASSA without the travel requirement

Expert assessment of your athlete

Strategised stretching programs where needed

Real explanations as to current movement technique
Instructions for Videoing of Athlete.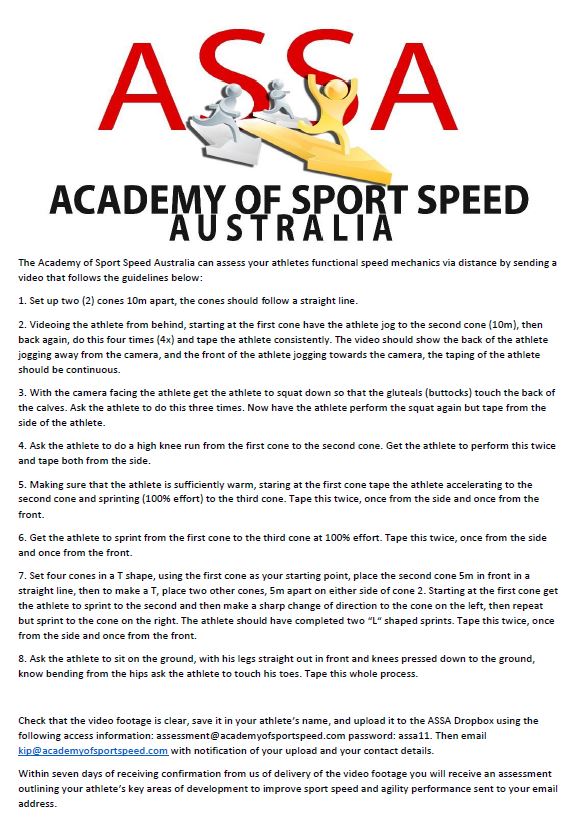 A 1 hour session with Training Director Ranell Hobson
---
Introductory session focussing on Sprint and Change of Direction mechanics
---
Maximising your increase in performance in the shortest amount of time.
---
Video Assessment from a Distance - Perfect for athletes anywhere in the world
---
Expert video assessment of your athlete
---
Explanations of current movement technique
---
Strategised stretching programs where needed
---
Self-Directed Programs for Sale - Home based sprint programs designed for those that can't travel to sessions
---
All written by Ranell
---
Includes full dynamic warmups and stretches for cool down and video links to all exercises
---
Full pre-season 10 week programs that cover – Repeat Sprintability, Linear Speed and Football Technical Speed.
---
Click the button above to take a look.
---