ABOUT US - LATEST NEWS, ARTICLES, BLOGS, PODCASTS, RANELL HOBSON, ASSA COACHES, RECOMMENDATIONS
Podcast excerpt (0.48) : "Our kids don't play enough anymore... movement issues in our developing youth"
Ranells Latest Blogs / Articles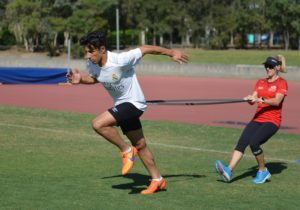 By Ranell Hobson CSCS Sprinting skills of soccer players is becoming of vital importance as the game and the players are becoming faster (Haugen et al, 2014; Wallace & Norton, 2014) and the amount of sprinting required within a game is ever increasing (Andrzejewski, et al. 2013; Di Salvo et al, 2010). Straight line acceleration…
Read More
*** Ranell was just interviewed by Kikoff Football Pathways Australia for a podcast about running mechanics, acceleration, cueing for coaches and a host of other information that she happily shares. It has been getting excellent feedback worldwide. For access to the audio please click the button below : "
Watch Ranell explain how to perform the Open/Shut the Gate warmup drill correctly
Video of Ranell training a Rugby League player in the pre-season:
Ranell discussing how elite athletes make running look effortless:
Videos of Ranell Hobson Coaching
Speed Assessments in Adelaide 2016
Coaching Premier League netball GWS Fury 2017
Teaching warm-ups to NPL1 Soccer Players
Click on the Coaches Pictures below to view their Coaching Locations and CVs.
New South Wales (Sydney and Newcastle/Forster)
Robyn Suttor

Training Areas : Sydney Olympic Park Athletics Centre, Homebush.

Click WMAC Robyns Lyon 2015 Newsletter for access to a newsletter featuring Robyn's staggering success at the 2015 World Masters Indoor Championships in winning a Bronze medal for Australia !
* Diploma of Fitness
* CIV Pilates Instructor
* ATFCA L2 Running Coach
* ASSA Sport Speed for Coaches Course
* Masters Athlete in Sprints and Hurdles with multiple NSW State & Australian Titles and Records

Daniel Brown

Training Areas : The Hills areas and Blacktown International Sportspark (Athletics Track).

* Bachelor of Sports and Exercise Science
* CIV in Fitness (Personal Trainer)
* CIII in Fitness (Gym Instructor)
* 1st/2nd grade cricketer Hawkesbury Cricket Club – Sydney Grade Cricket Competition
* First Class Cricket (Cambridge, England)
* Selected to be a Practice Net Bowler in the ICC Cricket World Cup 2015
* ASSA Sport Speed for Coaches Course

Nathan Kenny

Training Areas : Camden (Mondays), Penrith (Wednesdays and Saturdays), West Hoxton (Fridays).

* Bachelor of Physical education (UOW)
* CIV in Fitness (Personal Trainer)
* Sydney Swans NEAFL – 3 seasons, Southport, QLD – 1 season.
* currently playing for St George in the Sydney AFL
* Sydney AFL representative side in 2015 against the Canberra AFL rep side.
* Previously as Sydney Swans Academy coaching staff 2012-'14 before joining ASSA.
* ASSA Sport Speed for Coaches Course
Mick Byers

Training Area : Darlinghurst.

* Masters in Exercise Science (Strength and Conditioning).

* ASCA L2 Strength and Conditioning Coach

* B. App. Sci (Sport and Exercise Science)

* Strength and Conditioning Coach - Western Sydney Wanderers WSW A League Football Club

* Athletic Performance Specialist, Strength and Rehab, GWS Giants AFL Club

* Conditioning Coach - Penrith Panthers U20, Cronulla Sharks, ARU Western Force Academy.

Jackson Tisdell

Training Area : Taree, Boronia Park, Forster.

* Podiatrist graduated from University of Newcastle 2017. High Distinctions in Advanced Anatomy and Biomechanics
* Level 2 Sports Trainer with Sports Medicine Australia
* AFL player for Newcastle City Blues in AFL Hunter Coast competition.
* former Under 18s and Junior representative player
* ASSA Sports Speed for Coaches Course
* Australian Track and Field Coaches Association Level 1 Accredited Coach.
South Australia (Adelaide)
Deborah (Deb) Green

Training Area : Adelaide, South Australia.

* Bachelor Degree in Sport Studies
* ASCA L1 Strength and Conditioning Coach
* ATFCA L1 Athletics Coach
* Accredited Personal Trainer
* Diploma in Sport and Exercise Nutrition
* Representative Basketball Player (12 years)
* Fitness Trainer for the Australian Kookaburras LaCrosse team's USA tour.
* ASSA Sport Speed for Coaches Workshop

Patrick Jonczyk

Training Area : Adelaide, SA

* Strength and Conditioning Coach Basketball SA
* Research Assistant - University of South Australia
* Bachelor of Human Movement - University of South Australia
* Accredited Exercise Physiologist (ESSA)
* Premier League and State Basketball playing experience.

Jay Collison

Fresh from the UK where Jay was lastly Head of Academy S & C at Southend United FC, he is quickly getting used to the warmer weather here and is already working with future sporting superstars within the ASSA training system at Ellis park in the CBD.

With a MSc in Sport Science and BSc First Class with Honors in Sport and Exercise Science from The University of Essex, he also has an excellent coaching history to complement his academic prowess.

His coaching availabilities with ASSA are filling up quickly so if you are looking to improve your first step explosive speed, mobility and athleticism then call Deb in the office on (02) 8310 9946 without delay. 
Joe Swan

Training Area : Southern Cricket Facility, Leeming, Perth, Western Australia.

 Studying Post Graduate degree in Sport and Exercise Science
 ASCA Level 1
 Head S&C at Southern Cricket
 Senior Coach at Claremont-Nedlands Cricket Club (WA Premier Cricket)
Assisted East Perth Football Club S&C/rehab team (WAFL)

 
ASSA Recommendations :
Books for Reference or Reading.
"High Performance Training for Sports"
David Joyce, Daniel Lewindon
High-Performance Training for Sports features contributions from global leaders in athletic performance training, coaching and rehabilitation. Experts share the cutting-edge knowledge and techniques they've used with Olympians as well as top athletes and teams from the NBA, NFL, MLB, English Premier League, Tour de France and International Rugby.
Combining the latest science and research with proven training protocols, High-Performance Training for Sports will guide you in these areas:
Whether you are working with high-performance athletes of all ages or with those recovering from injury, High-Performance Training for Sports is the definitive guide for developing all aspects of athletic performance. It is a must-own guide for any serious strength and conditioning coach, trainer, rehabilitator or athlete.
Click here for the link to Amazon to purchase.
"Running"
Frans Bosch, Ronald Klomp
This richly illustrated work presents innovative training concepts based on recent scientific research and extensive knowledge of the real-world training. It provides running trainers, physiotherapists and physical exercise teachers with the latest insights into the training runners.
The methods presented here are based on biomechanical principles. Scientific material is translated into practical techniques in the discussion of topics such as running technique, energy supply processes and adaptation through training.
•Unique approach to the material makes this book an excellent resource for a beginner's introduction or an advanced trainer's review.
•Coverage features the most up-to-date information available.
•Logical organization of information makes the text easy to use.
Click here for the link to Amazon to purchase.
"The Sports Gene"
David Epstein
The New York Times bestseller – with a new afterword about early specialization in youth sports.
The debate is as old as physical competition. Are stars like Usain Bolt, Michael Phelps, and Serena Williams genetic freaks put on Earth to dominate their respective sports? Or are they simply normal people who overcame their biological limits through sheer force of will and obsessive training?
In this controversial and engaging exploration of athletic success and the so-called 10,000-hour rule, David Epstein tackles the great nature vs. nurture debate and traces how far science has come in solving it. Through on-the-ground reporting from below the equator and above the Arctic Circle, revealing conversations with leading scientists and Olympic champions, and interviews with athletes who have rare genetic mutations or physical traits, Epstein forces us to rethink the very nature of athleticism.
Click here for the link to Amazon to purchase
"Strength Training for Speed: Scientific Principles and Practical Application"
James Wild
Speed is integral to the successful performance of individuals and teams in most sports. Knowledge of the ways in which high-performance athletes train to develop this quality is highly sought after. Strength Training for Speed is a one-stop resource for coaches and athletes looking to enhance sprinting speed through effective strength training methods.
The latest scientific research is used to underpin training solutions presented within this book, which includes strength programmes followed by full international-level athletes. The scope of applicable content will be of particular interest to coaches, athletes and students. Boasting a library of over 100 exercises and a series of example periodised plans, readers will learn how to devise effective strength training programmes for any athlete – from the recreational to elite performer.
Strength Training for Speed covers: Fundamental anatomy and physiology of sprinting; how to elicit the key physiological adaptations necessary for improving strength, power, and ultimately speed; biomechanics of sprinting during the acceleration and maximum velocity phases; how to design individual strength training sessions; the periodisation of strength training for speed development.
Click here for the link to Amazon to purchase.
ASSA Recommendations :
Podcasts to Subscribe to.
Pacey Performance Podcast
Strength of Science is a resource which was set up in response to an ever increasing work time demand being put on strength and conditioning coaches and sports scientists, coupled with ever decreasing CPD budgets and sharing of practice among practitioners.
It was created to provide world class information on all aspects of sports performance. Through the podcast and blog you will hear the views of Rob as well as world leading strength & conditioning coaches, technical coaches, physiotherapists, nutritionists and psychologists.
Some of his guests have included Darren Burgess (ex Liverpool FC now Port Adelaide AFL), Brett Bartholomew (EXOS), Alex Natera (Aspire Academy Qatar) and Dave Tenney (Seattle Sounders FC) amongst many others of extraordinary experience.
Australian Strength and Conditioning Associaiton Podcast
The Australian Strength and Conditioning Association (ASCA) is an incorporated non-profit organisation and is the peak national body for strength and conditioning (S&C) professionals in Australia.  As the peak industry body, the ASCA aims to ensure and enhance quality-assured strength and conditioning coaches for sports and the sporting community.
The ASCA provides a variety of coaching programs for all levels of coaches – these programs are registered with the National Coaching Accreditation Scheme, which is administered by the Australian Sports Commission. These accredited programs identify individuals who possess the knowledge and skill to design, implement and review safe and effective S&C training programs for individuals and team sport athletes. In addition to this the ASCA provides high-level professional support, development and research opportunities while continuing to enhance education for S&C Coaches.