UPCOMING COURSES & WORKSHOPS
"Ranell Hobson from ASSA is one of the leading experts in Australia at making athletes strong, fast and explosive.
She excels in teaching athletes proper mechanics in running, sprinting, jumping and change of direction/agility and how to achieve effective transfer these skills into field and court based sporting environments."
Ludus Performance, Perth WA.
Events , Workshops , Clinics , Assessments , Courses,
Sydney School Holiday Speed Clinics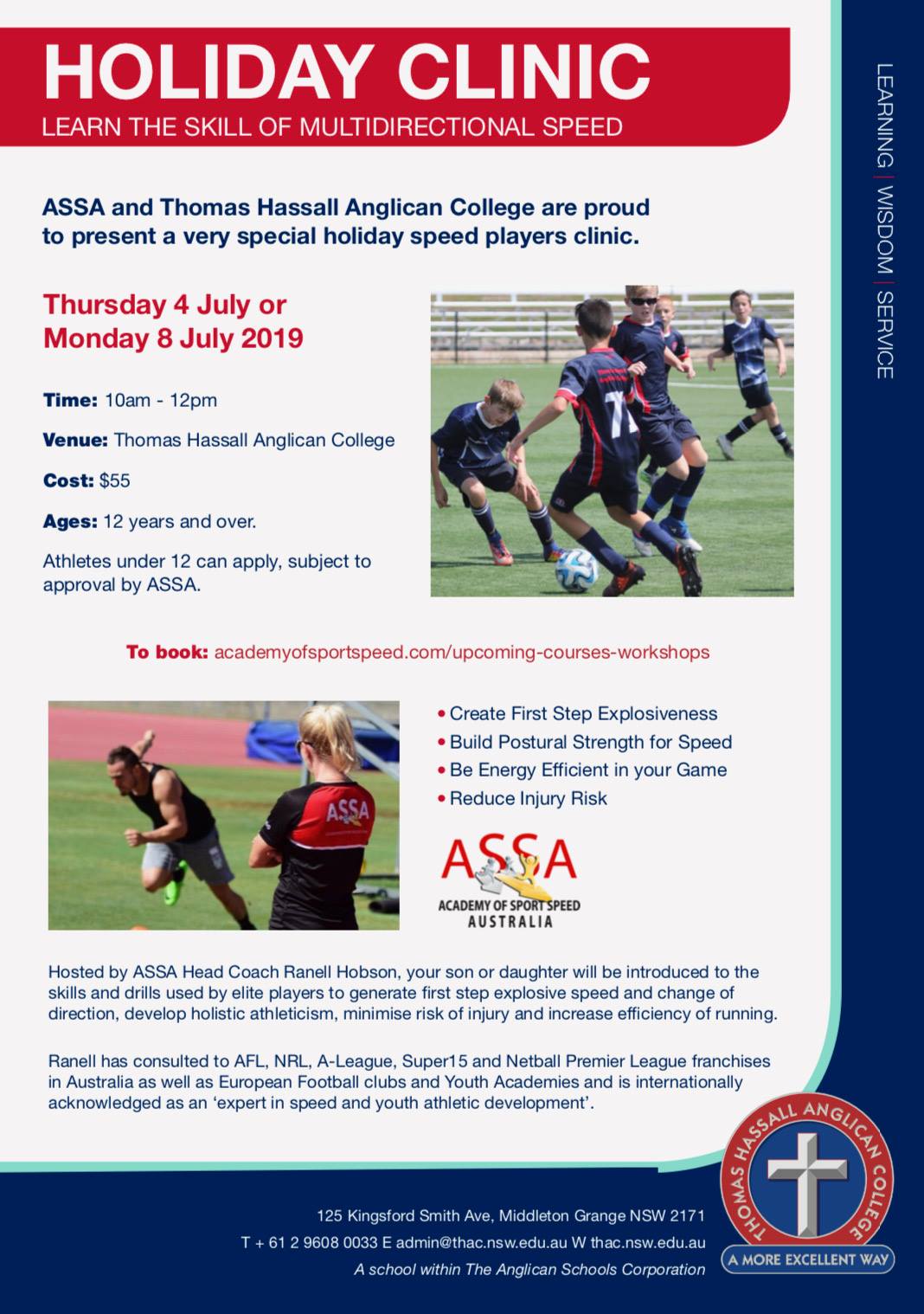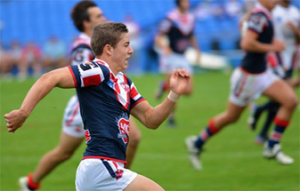 There are only 2 Sydney speed clinics available.
Both will be run by Training Director Ranell.
Thursday 4th July 10am-12md - $55 per person.

Monday 8th July 10am-12md - $55 per person.
Address is : Thomas Hassall Anglican College,  125 Kingsford Smith Avenue, Middleton Grange NSW 2171
Book via the links below :
Sydney Thursday July 4th Clinic Bookings
Sydney Monday July 8th Clinic Bookings
Adelaide School Holiday Speed Clinics
For all field and court based sports players.
Date : Tuesday 16th July 2019
Time : 2 sessions available 10am - 12md and 2pm - 4pm. Just book onto the one of your choice
Location : Edwardstown Sports Club, East Terrace, South Plympton SA
Ages : 12+
Price : $49.95 Early Bird Rate to Tuesday 2/7. Then $64.95 from 3/7 onwards.
Book your place today ! Links below.
"if you ever have the chance to attend one of Ranell's speed clinics - do not miss it" Jack Pullen, Manchester City Academy.
Adelaide Edwardstown 10am Clinic Bookings
Adelaide Edwardstown 2pm Clinic Bookings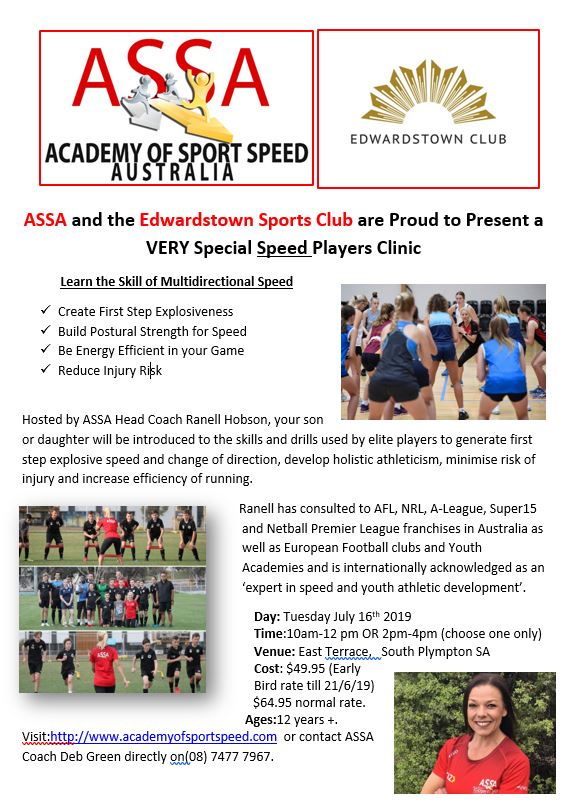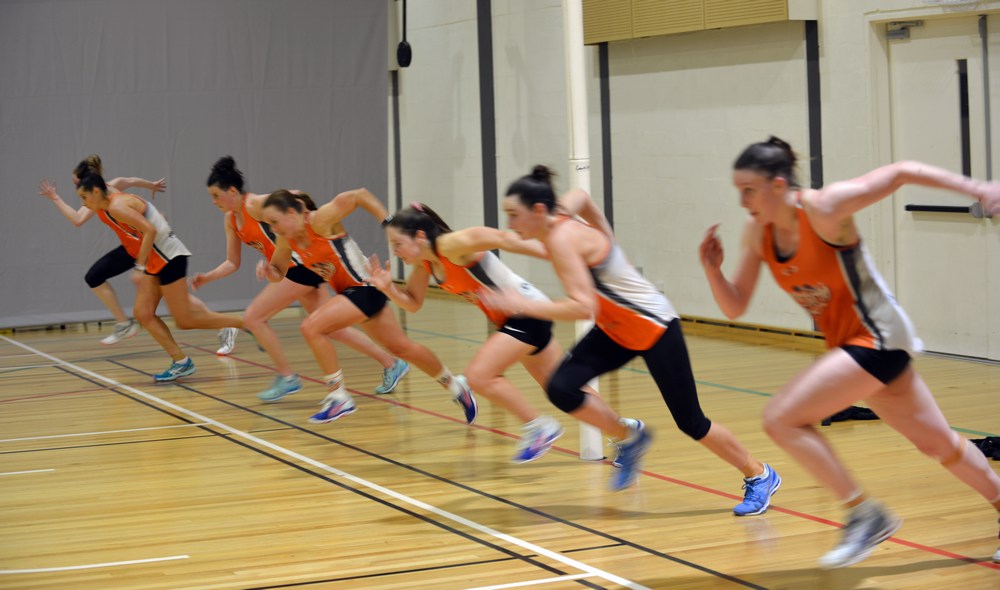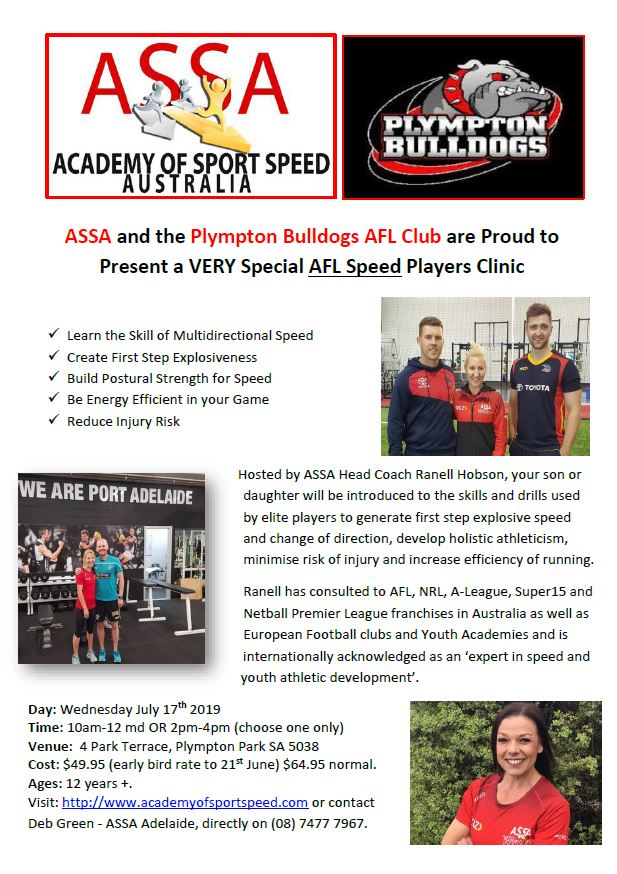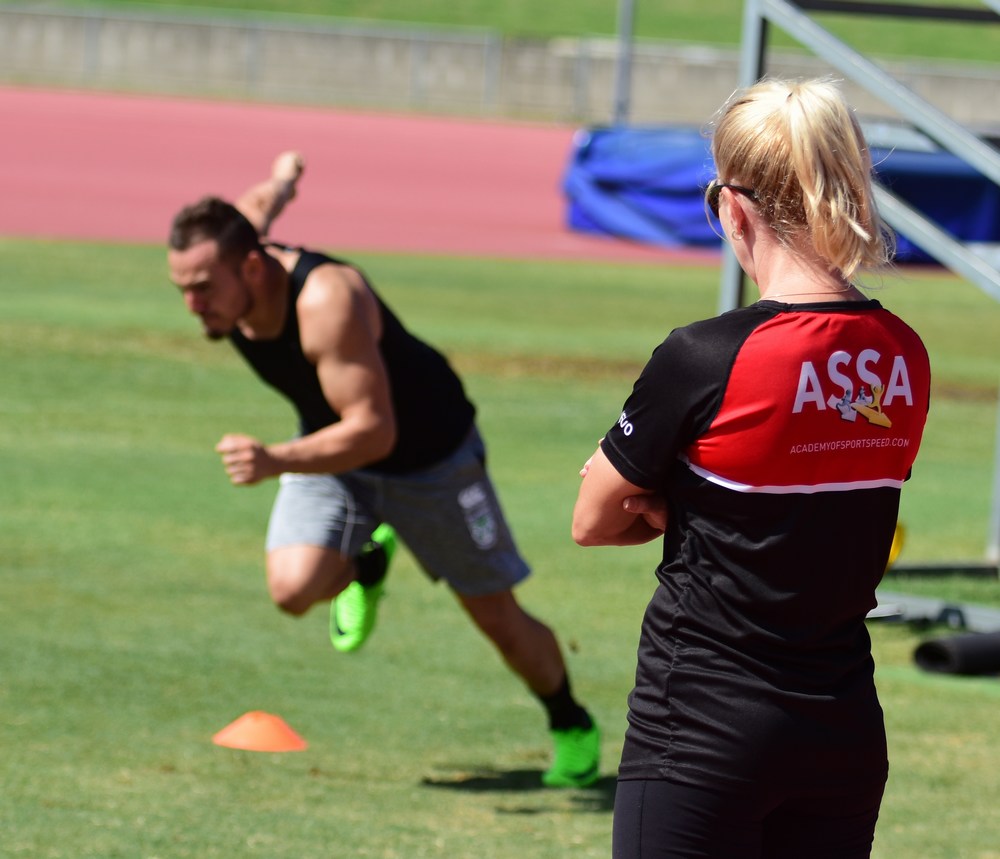 For all field and court based sports players.
Date : Wednesday 17th July 2019
Time : 2 sessions available 10am - 12md and 2pm - 4pm. Just book onto the one of your choice
Location : Plympton Bulldogs AFL club, 4 Park Terrace, Plympton Park SA
Ages : 12+
Price : $49.95 Early Bird Rate to Tuesday 2/7. Then $64.95 from 3/7 onwards.
Book your place today ! Links below.
"...we really agree with everything you guys do" Darren Burgess, ex Port Adelaide FC now Arsenal FC UK.
Adelaide Plympton Park 10am Clinic Bookings
Adelaide Plympton Park 2pm Clinic Bookings
ExPro 2019 - Singapore June 29 - 30th, 2019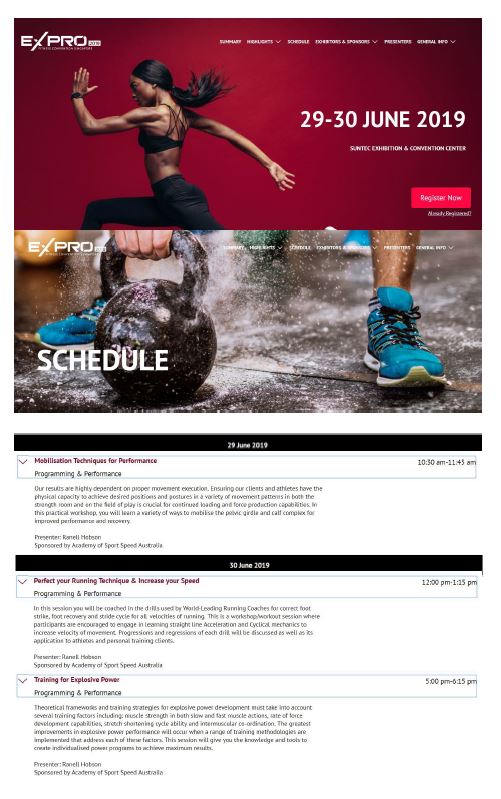 Ranell will be presenting 3 workshops at this prestigious event in Singapore in ate June.
It will be absolutely amazing so click the button below to access the official website with information on all of the speakers, events and booking details.
Asia Fitness Convention - Bangkok October 10 - 13th, 2019

Ranell will be hosting pre and post conference workshops on Athletic Development as well as intra-conference presentations on Running.
Again this is an event not to be missed with a full program of amazing presenters and topics to challenge you and change you.
Australian Strength and Conditioning Association - Annual International Conference - Gold Coast Australia November 8 - 10th, 2019
The ASCA International Conference on Applied Strength and Conditioning, partnered by ECU, is the largest gathering of strength and conditioning professionals in Australia and is one of the premier annual strength and conditioning conferences that attracts presenters and delegates from across the globe.
The aim of the Conference is to provide delegates with the progress and research being made in latest techniques and technologies as well as practical application. The 2019 Conference will have a strong focus on practical sessions that provide delegates with hands on experience as well as keynote sessions, interactive and lecture style sessions, TSACA sessions and round table discussions.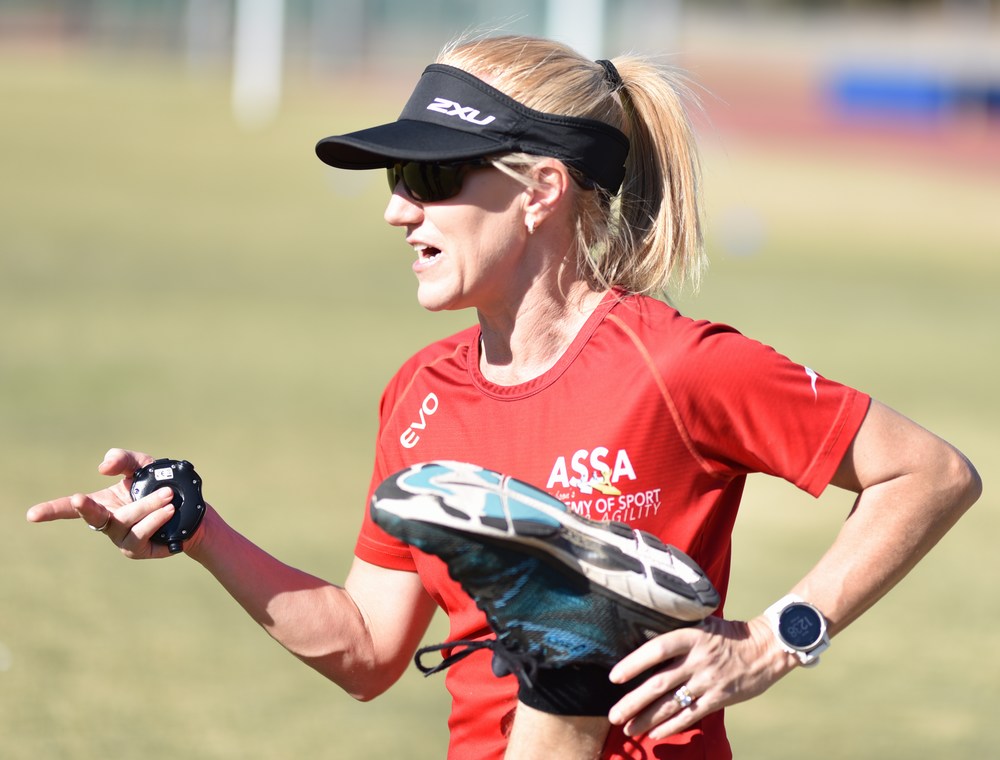 Ranell's Presentations (Theory and Practical) | "Making sense of Running Economy, Running Efficiency, Acceleration & Max Speed Training from a programming perspective"
Presentation Outline | Most field and court sport athletes require technical proficiency and physiological efficiency in all velocities of running (jog, run, accelerate, sprint). This presentation will provide attendees with ideas for programming both technical and physical qualities across a season, a week, a session. What constitutes an effective amount of training and the principles surrounding development and maintenance will be discussed.
STRENGTH TRAINING FOR SENIORS 2 DAY COURSE : SINGAPORE AUGUST 3-4TH 2019.
SENIORS STRENGTH AND CONDITIONING (2 DAY COURSE):
Where : Singapore August 3 - 4th 2019.
Join award winning Fitness Industry educator Ranell Hobson for two days of Strength and Conditioning for seniors.
COURSE OUTLINE
From the very frail to the senior elite, learn everything you need to create physically fit, strong, mobile and stable senior clients. This is a Practical course that compliments the Senior Fitness Specialist Theory course. Participants will spend one day in each discipline (Strength Training and Cardiovascular Conditioning) developing practical strategies to maximise training adaptations for Senior clients.
INSIGHTS
Educator Ranell Hobson is an award-winning teacher and presenter who has been delivering courses and workshops to Fitness Industry Professionals for over 20 years.

This 2-DAY Course will give you the practicals skills and knowledge to move forward with confidence in writing and delivering programs to Senior clients at any level of physical competence

Course dates- 3rd & 4th August 2019 from 9am to 4pm
DAY 1 – STRENGTH TRAINING FOR SENIORS
As Fitness Industry professionals we know that everyone can benefit from lifting weights, older adults can reap even more benefits, giving them a stronger, healthier body. Increasing their musculoskeletal strength helps them avoid injuries, falls, pain, and other issues associated with ageing.In this one-day Strength for Seniors course you will learn a full range of exercise progressions in all 6 key functional movements to provide the best specialized one-on-one training for older adults ranging from the frail to the athletic.
WHAT YOU WILL LEARN:
Assessments as Exercises Patterns for Competency and Confidence

Exercises to improve Stability & Balance and reduce the risk of falls

Exercise progressions for the Lower Body in the Physically Frail to the Physical Elite in all three functional movement patterns (Squat, Lunge and Hinge, Push, Press and Pull)

Exercise progressions for the Upper Body in the Physically Frail to the Physical Elite in all three functional movement patterns (Push, Press and Pull)

Maintaining Muscle-tissue Integrity and Improving Range of Motion for Enhanced Mobility
DAY 2 – CARDIO-RESPIRATORY TRAINING FOR SENIOR
Cardio respiratory health is the key to all other factors of well being, increasing mitochondria number and size, increasing capillarisation throughout the tissues of the body and increasing the strength of the heart musculature positively impacts our quality of life providing us with energy and vigor. In this one day focus on Cardiorespiratory training for seniors you will be provided with a large bank of modalities to train your Senior Clients. Using case studies and working in groups you will build competencies in delivering fusion, fartlek, interval, continuous and simple set sessions in both aerobic and anaerobic systems.
WHAT YOU WILL LEARN:
Programming and Planning for the 4 Phases in the ACE Model of Cardiorespiratory Training

Body weight based Cardiorespiratory training

Aerobic Base Training Exercises & Programs

Aerobic Efficiency Training Exercises & Programs

Anaerobic Endurance Training Exercises and Programs

Modes of Training – Steady State, Intervals and Fartlek
For bookings please click the button below to visit the FIT-Singapore website and the page dedicated to this course.
Early Bird Price just $575 (before 14/07/19) Regular $650

1.4 ACE CEC's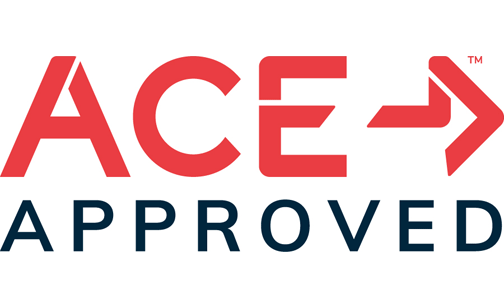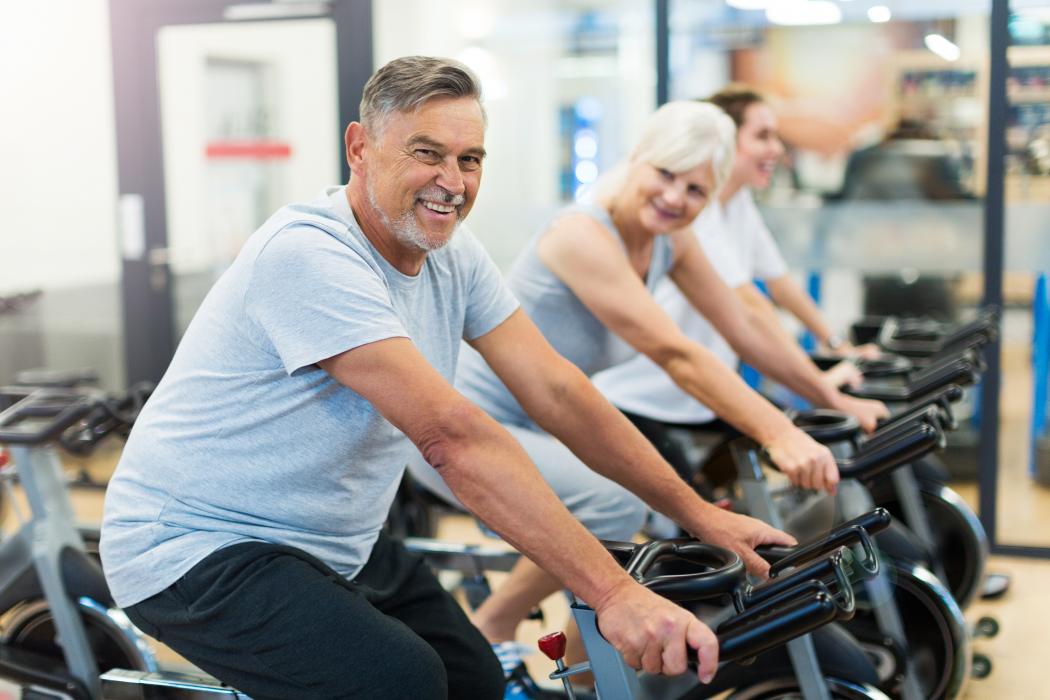 Ranell is bringing her expertise in all things sport speed to the capital cities of Australia in 2019.
Organise with your club or sporting organisation to host her visit for sessions that will maximise your players athletic performance.
She will be offering the following 4 events :
1. The 2 hour players clinic involving an introduction to speed and change of direction mechanics training for all field and court based sports. Limited in attendees and ages 13+.
2. The 3 hour coaches workshop involving theory and practical components that is perfect for time-poor professionals. This is a condensed version of Ranell's excellent full day course.
3. The full day (9 hours) speed coaching course comprising 4 hours of theory and practical application. This is a fantastic day that will change the way you view your athletes and includes lifetime access to course videos and speed training sessions.
4. A one hour assessment session of players movement capacities and competencies. Held in small groups these hour long sessions are sensational for identifying weaknesses and restrictions in hips, knees and ankles which may lead to, or be causing chronic injury, and providing real home based training programs to fix the issues found.
The program is designed to ensure that coaches who want to learn how to coach technical proficiency, increase their player's speed and overall efficiency and decrease their risk of injury, can do so in the best possible learning environment from a true sport speed specialist.
Athlete Functional Mechanics

Acceleration and Linear Speed (Practical)

Mechanics in Speed for Explosive Force

Plyometrics and Core Strength

Multi-directional Speed and COD (Practical)

Science Foundations behind Explosive Speed
Sport Speed presenter Ranell Hobson (Australia) will take you through leading technical drills to maximise performance in straight line and multidirectional speed. These drills and combinations can be applied to any field or court based sport to unlock the true athletic potential of yourself or your players. You will also gain an understanding of the science foundations behind explosive speed; how to maximise potential and keep yourself and your team injury free.
Learn how to identify and correct inefficient speed and movement mechanics in your players that will reduce their risk of injury and increase on-field efficiency. This course comprises theory and practical components that will provide you with skills and drills that you can implement into your current training and coaching programs immediately looking at speed mechanics to maximise athlete efficiency – including Biomechanics, Physiology & Physics of Sport Speed.
Feedback from attendees :
RANELL HOBSON
Ranell Hobson has over 20 years experience teaching sport speed and agility. She has national and international qualifications relating to sport speed as well as currently training and competing at the highest international level for sprints. As such, she is in the unique position of not only knowing what she is talking about, but also actively pursuing excellence in speed on the worldwide stage for herself.
THERE IS A REAL DIFFERENCE BETWEEN SPEED TRAINING FOR TRACK ATHLETES AND SPORTS TEAMS PLAYERS and Ranell has researched this thoroughly to ensure that her programs are specifically suited to the athlete's needs for their chosen code. She has created training programs that are specific to increased sport speed for your athlete's designated sport. She has also personally trained the ASSA coaches in order to provide the athletes with the best possible learning and training environment.
She has recently completed her Masters degree in Sports Coaching at UQLD and alongside her CSCS and ASCA Level 2 certifications, she is also an award winning teacher and presenter.
Ranell brings to her workshops and courses an environment that facilitates discussion and coach interaction, where evidence-based learning is paramount and excellence of drill execution is displayed and participation is encouraged.
She has presented workshops and courses all over the world, most notably at youth academies of EPL clubs Arsenal, Southampton, Brighton, Crystal Palace and Leicester. She has worked with players and teams at all levels of performance.
"I've heard she is the coach of my dreams" – mother of FNSW NPL1 u/18 female soccer player suffering recurring non-contact leg injuries.