Ultimate Netball Fitness 30 minute Blast !!!! $AUD49.50 for 4 weeks access
Repeat as often as you like within the access period !
Ranell's  Ultimate Netball Fitness Blast program is a 30 minute high intensity workout that will get you in your best netball specific fitness shape ever for the upcoming season.
The program can be repeated as often as you like - once, twice, three times a week.
It is EVERYTHING YOU NEED with NO EXTRA EQUIPMENT required.
Perfect for Ages 12+
Access is given for 6 weeks from signup to allow for weather and other out of your control circumstances. We WANT YOU to get the most benefit out of this awesome program.
4 Week Ultimate Netball Fitness Blast - 30 minute workout.
Includes everything you need:
Warm Up 

Conditioning Exercises 

Cool down
Use the sign-up form here and get started today !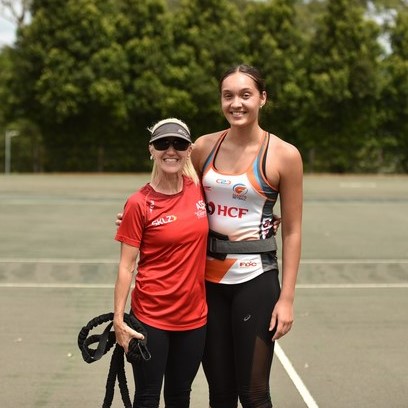 Please fill in the form below which allows you to choose your own password.
To complete the sign-up process please click on the end button to create your account. You will then be taken to the payment screen and able to pay via the Paypal portal.
Once that is completed you will then be able to access the programs via this page automatically.
For even more ease of use you can also download the app to your choice of mobile device and use this to  log in using your email and password at any time.
*HANDY HINT : click the 'ok to contact' box in the sign up form below to allow 2 way communication between yourself and Ranell whilst using the APP.